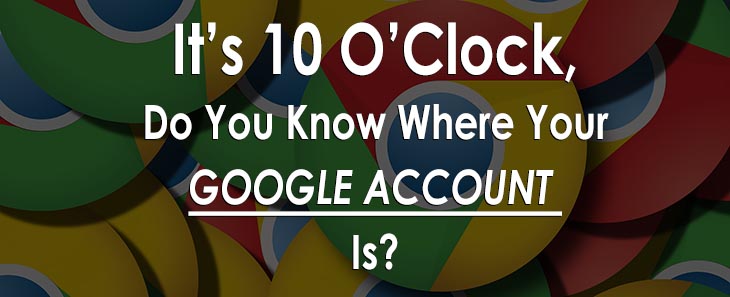 Google account privacy should be a concern for everyone, and a recent story out of Arizona makes that crystal clear.
Thanks to faulty Google tracking data, Arizona police arrested an innocent man, locked him up for about a week. Now he's out of a job and lost his position in a special college program. Could the same thing happen to you? Yes, if you aren't careful about your Google account!
Jorge's Horrifying Google Account Arrest Story
The Murder
In 2018, someone shot and killed a man named Joseph Knight, and the only evidence was fuzzy CCTV video footage showing a white Honda at the scene of the crime. To garner more leads, the Avondale Arizona Police Department approached Google with a geofence data warrant.
Google Data Warrant Granted and Suspect Arrested
Compliantly, Google handed over logs identifying all the wireless devices logged into an account in the same region as the car at the time of the murder.
Eventually, law enforcement arrested Jorge Molina, 23. Officers showed up at his retail job and perp-walked him into custody. Why Molina? He drove a white Honda and his Google account pinged in the designated area at the time of the murder.
Media outlets plastered Molina's mugshot on every news outlet across Arizona, and he lost his job. Even though police couldn't connect any weapons, shell casings, or motives to him, he spent the next six days in jail.
Case Falls Apart
But the case quickly unraveled. Two alibi witnesses contacted the police and proved they'd hung out with Molina the night in question. Also, it turned out that Molina wasn't the only person with access to the white Honda. His mother's boyfriend — a man with a past — sometimes used the car without permission.
Then detectives started noticing inconsistencies with the location data. For example, Molina's Google account pinged at his mother's workplace at the same time he used his debit card across town. How could that be?
Eventually, the case against Molina fell apart, and the police let him go. By that time, though, the Internet was already littered with damning headlines about his arrest. He wasn't able to get his job back and got booted from his accelerated college program for missing too many classes.
Google Account Privacy to Blame for Confusion
In the end, Molina's mother's boyfriend was to blame. But why did Jorge's Google account ping at the murder scene? Answer: He never removed his Google account from an old cell phone that was, apparently, in the car!
Molina is suing the police department for defamation, gross negligence, and intentional infliction of emotional distress. In all likelihood, the Avondale PD settle, but Molina is still saddled with the bad press lurking on the Internet, which could affect him for years to come.
Be Careful About Google Account Privacy and Sharing
This story should scare everyone with a Google account.
Think about it for a second: On how many devices are you logged into Google? Are those devices always in your possession? Do you have roommates? Is your Google account connected to a shared smartTV? Have you given family or friends one of your old phones or tablets? Have you left an old phone or tablet somewhere?
Remember the cautionary tale of Jorge Molina and be more mindful of your digital footprint!
Connect With a Business Technology Consultant
This Google account nightmare was a personal story, but businesses should also be on top of their digital footprints.
Today's market is a wired one, and digital security needs to be a top priority for every business, big and small. These days, a lax privacy approach can lead to catastrophic, profit-depleting events.
My name is Aaron Kelly, and I'm a business consultant who works with companies on various digital security and privacy matters. Hacking is on the rise, and nearly all firms are at risk. Do you have a plan? Are you compliant with all local, state, federal, and international breach notification laws? What would you do in the event of an attack? Do you know how to minimize costs associated with a security breach? Do you know how much those significant costs are (link)? Does your business have a Google account problem and not even know it?
If you don't have answers to these questions, let's talk. Digital security now affects every facet of your business, and the time to take it seriously is now.